The most satisfying meal is one composed not only of healthy food, but is also full of memories picking, growing, raising or hunting each ingredient.  This brings to the table a meal that truly nourishes us not only in body, but spirit and heart as well.  Many of us have memories of picking apples or berries or mushrooms with our families as children.   How beautiful it is to look back on these times.  The food itself has long ago been eaten, but the memories of harvest continue to nourish us. It is only recently that culturally have we removed ourselves so much from this.  Enough of us have held closely these values of knowing our food that you can find it anywhere if you know where to look.  These timeless values are reflected in our  farmers markets, community gardens, local food movements, restaurants, and most of all in our own home kitchens.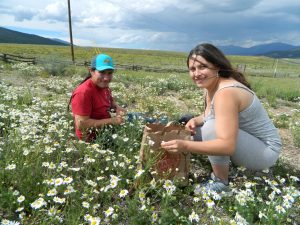 Over the course of the year there are many seasons for the wild food seeker or local food aficionado.  These seasons fall and rise like tides in the sea.  Asparagus thrusting upwards in the spring.  Chamomile dancing in summer rain storms.  Rose hips bursting with ripeness as summer gives way to fall.
This passion of local food bubbles over into our products at Bison Star Naturals.  You see it, smell it and feel it when you use a bar of soap containing these wonderful plants.  There is nothing like using one of our Sage Pine bars and feeling the essence of Taos as you breathe in and remember traveling through seas of aromatic sage brush.   The freshness as the grey-green leaves break under your footsteps and fill the air with an unmistakable aroma.
We focus our scents on plants that reflect our lives on a holistic level.  Much of what we harvest for our soap is also stored in mason jars in my home kitchen for use throughout the year.  The soap allows us to showcase the beauty of our region through the plants contained within each bar.
The photo above is of us, Angelo (left) and Jacquelene (right) collecting chamomile flowers near Taos in July of 2017.  Below is a pot going on the stove to make a tea with cota, mint and rose hips.
No matter where you find your sustenance, Happiness is a meal shared with loved ones.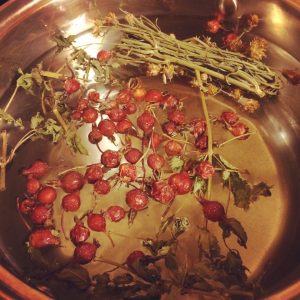 "This magical, marvelous food on our plate, this sustenance we absorb, has a story to tell. It has a journey. It leaves a footprint. It leaves a legacy. To eat with reckless abandon, without conscience, without knowledge; folks, this ain't normal." – Joel Salatin, farmer and author of Folks, This Ain't Normal; You Can Farm