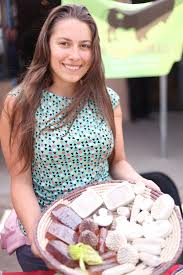 Bison Star Naturals is a family owned and operated soap company out of Taos, New Mexico.  We make our uniquely molded soaps in small batches, each containing essential oils and local plant material.  Our soaps are free of animal products, perfumes or harsh dyes.  All of the plants used are either from local farms or wild-harvested by our family.
With humble beginnings in 2013, our company grows one bar of soap at a time.  Our soaps have been found around New Mexico and multiple states at farmers markets, small shops, grocery stores and trade shows.  We  have collaborated with artists, farmers and other business owners.  We always like to support other businesses and source many goods and services right out of Taos. In January of 2016 we were very honored to be recognized by the Lieutenant Governor of New Mexico for our achievements.
Despite our success during our early years, founder Jacquelene McHorse closed Bison Star towards the end of 2016.  For good reason, however, as she and her husband, Angelo McHorse, welcomed a daughter into their family last spring.  Now after settling into life as three, Jacquelene and Angelo are excited to get Bison Star going again in 2018.
We have big plans for 2018 and beyond.  We are already researching and applying to fairs & markets in New Mexico and a couple in Colorado.  Our new shrink wrapped packaging brings our soaps to the next level. We are working hard to get our products into stores, museums, hotels, private parties, or anywhere else that we fit. Our product line is on the verge of expansion, with the addition of two new items to come later in 2018.
We thank you for viewing our page and supporting our family run business.  Your support makes our dreams a reality.