Welcome to Bison Star!  We are a Native owned and family operated body care company from Taos, New Mexico.  Our products are made with organically, naturally and locally sourced ingredients and never contain animal products, dyes or perfumes.  We started our company in January of 2018 after starting our family, when we realized that we desired natural products with qualities that we hadn't yet found on the market.
This summer are building our storefront and work space!  Join us in the journey as we build from the ground up in Taos.  We will be documenting the building process that will include our store and work studio.  Keep up with the project by following us on social media @BisonStar (IG) or /BisonStarNaturalsLLC (Facebook).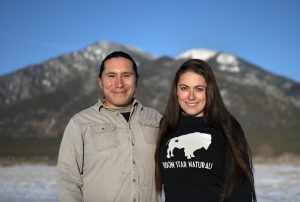 Husband and wife team Angelo and Jacquelene McHorse met in 2007 in Durango, CO during dorm move-in day as freshman at Fort Lewis College.  They both loved studying at FLC where there was ample opportunity to ski, hike, camp and learn.  Upon completion of their degrees in 2011 & 2012 they settled in Angelo's hometown of Taos, NM.  Before opening Bison Star Angelo managed a farm and served as a Wilderness Ranger.  Jacquelene worked in dental offices, animal supply stores and interned horse & colt starting.  The two have traveled all over the world together and are now happy be raising their toddler.  Angelo is a tribal member of Taos Pueblo and Jacquelene does not have any tribal affiliation.
Thank you for your support of Bison Star!   
---
Recent Features:
May 2019 Native Max Magazine Article
May 2019 Native Business Magazine Top 50 Native Entrepreneurs Issue
February 11, 2019 Native Business Magazine Article
January 28, 2019 True Taos Radio Interview
January 2019 Venture Fund helps with Funding Technical Aid as found in Newspapers across New Mexico
2018
December 2018 Issue New Mexico Magazine Gift Guide
November 20, 2018  TaoStyle: Taos Goes to Market
October 31, 2018  TaoStyle: Cid's Annual Anniversary Celebration Featured Business
August 31st, 2018 KRQE New Mexico Living Interview
June 2018 Taos News Article:  Bison Star Naturals: In Harmony with Nature