Sign up to get exclusive deals and chances to win free goodies!  This August 31st we are giving away $40 worth of FREE bar soap.
Bison Star Naturals is a family owned and operated soap and lotion company out of Taos, New Mexico.
Our products are made in small batches, contain only pure essential oils and are 100% vegan.  Everything we make we also use on a daily basis.  Before Bison Star, we searched long and hard for products that aligned with our needs and values.  We sought something that was not only high quality & luxurious, but also is natural and feels good.  So, eventually we came up with our own line of Bison Star Naturals products that contain organically, locally and naturally sourced ingredients, without artificial fragrance or animal products.
Our team consists of husband & wife Angelo & Jacquelene McHorse.  Together we work to bring you Bison Star's Naturals product line.   When we aren't in the soap factory or at an event, you might find us enjoying the lands around our beautiful home in Taos.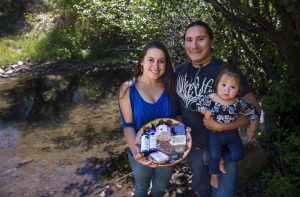 Our accomplishments so far this year consist of launching our new line of lotion!  The lotion has been in the works for years and is finally available to the world!
Our future plans and aspirations are exciting! We are still working on a liquid soap that we will release in the fall of 2018. We are searching for events across the country to travel to for sales opportunities (want to find us near you?  Contact us!).
Thank you so much for your support of Bison Star Naturals.