Bison Star Naturals is a Native owned body care company out of Taos, New Mexico.  Our products are made in small batches, contain only pure essential oils and are 100% vegan.  Everything we make we also use on a daily basis.  Before Bison Star, we searched long and hard for products that aligned with our needs and values.  We sought something that is not only high quality & luxurious, but also is natural and feels good.  So, eventually we came up with our own line of Bison Star Naturals products that contain organically, locally and naturally sourced ingredients that represent our unique Southwest culture.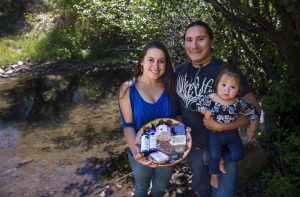 Bison Star Naturals began in 2013. Our first products were  molded soaps containing wild-harvested plants and essential oils that we sold at local farmers markets and arts & crafts fairs. Our soaps were designed to reflect New Mexico living through their unique shapes, scents and plants contained within. Our signature Sage Pine bar became a favorite with ingredients like wild Taos sage blended with both sage & pine needle essential oils.
As Bison Star grew, we found the need to expand our line.  We never quite found a lotion that really aligned with our needs, so we decided to start there.  In May of 2018 we released our silky body lotion in Sage Pine and Lavender scents. We created it to be light, moisturizing and non greasy containing all of our favorite plant oils: coconut, jojoba, castor and argan.  Plus, we use recyclable bottles in our efforts to conserve natural resources.  Since our lotion's launch, Bison Star has seen amazing growth.  We are currently working on the release of a yucca root liquid soap that we are hoping to launch this fall.
Bison Star was recognized by the New Mexico Small Business Development Center and Lieutenant Governor John Sanchez in 2015 for our contributions to our state economy and our entrepreneurial spirit. We were invited to the State Capital where we were introduced on the House Floor and also met Governor Susana Martinez. We have had two features in the Taos Newspaper and appeared on the KRQE New Mexico Living show during Labor Day Weekend 2018.
Jacquelene & Angelo McHorse met at Fort Lewis College in Durango, CO during their move in day freshman year back in 2007. You could say it was love at first sight!  Jackie is originally from Colorado and Angelo is orignally from Taos Pueblo. The couple settled down at their family home in Taos Pueblo, New Mexico after completing their degrees at Fort Lewis. Together they own and operate Bison Star and raise their 1 year old daughter.
Thank you for your support of Bison Star Naturals!
Publicity:
December 2018 Issue New Mexico Magazine Gift Guide
November 20, 2018  TaoStyle: Taos Goes to Market
October 31, 2018  TaoStyle: Cid's Annual Anniversary Celebration Featured Business
August 31st, 2018 KRQE New Mexico Living Interview
2018 Taos News Article:  Bison Star Naturals: In Harmony with Nature
2016 NMSBDC Taos Star Client & recipient of recognition from NM Governor & Lieutenant Governor in January of 2016
2014 Taos News Article:  Young Entrepreneur Celebrates One Year of Soap and Growth