Description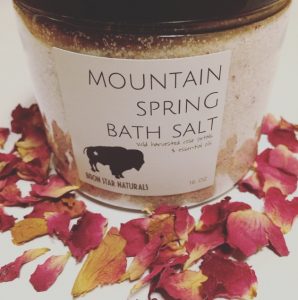 This is a well loved salt, flower & essential oil blend, especially because of the finely ground rose petals we harvest ourselves.  We start off with our own relaxing blend with Himalayan salt, Sonoma (Pacific) salt & Epsom salt.  From there we mix in fragrant rose petals we picked by hand in the Taos area.  (We harvest our roses mindfully – you likely wouldn't even be able to tell we had been around to pick them!)  We slowly add in essential oils that remind us of carefree days enjoying the high country: spruce, blue chamomile, pine needle, lavender & peppermint.
Our Mountain Spring Bath Salt currently comes only in 16 oz jars.
Ingredients:  Himalayan Salt, Sonoma (Pacific) Salt, Epsom Salt, Wild Harvested Rose Petals, Spruce Essential Oil, Blue Chamomile Essential Oil, Pine Needle Essential Oil, Lavender Essential Oil, Peppermint Essential Oil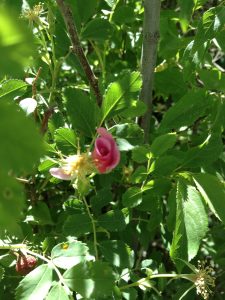 Our Mountain Spring Bath Salt contains finely ground local wild roses that we hand pick each summer in the Taos area.  This wild variety of rose is small, fragrant and soft pink in color.  They grow well where there is moisture, usually where shade is available.  You likely have seen them if you have spent time during the summer in the Rocky Mountain region.